Runner Rugs with Class
Runners, what isn't in them to love? I remember, when I was a kid, my mom had a runner in our hall. It was clear vinyl, totally meant to protect the carpet from 6 hard-on-materials kids. It added nothing to the design of our house as such but it did provide hours of fun. We would flip it upside down then call a random sibling's name and wait for him/her to come running, stepping on the spiky bits that held the rug in place. Every single one of us fell prey to the prank, lots of laughter and tears happened because of that runner rug. But I ensure, the vinyl runner of my style-starved childhood home is not the runner that we are here to discuss.
First, we need to talk about the hall, because that is where the rug serves its actual purpose. It is there to not only beautify a space that is often overlooked (let's face it, it isn't really a room), it also serves to protect your flooring in one of the most high-traffic areas in your home. Don't put down a vinyl mat, don't settle for that carpet remnant that your flooring guy tries to pawn off on you. Invest in a beautiful runner and you will be rewarded with attractive design and functionality every time you walk down your hall. Don't just buy a runner that matches your living room rug, buy a runner that pulls design elements such as patterns or colors, from other areas of your home. If your living room rug has a large-scale floral design, pull a color from it and go with a solid runner. Or pull two colors from it and chose a striped runner. Stripes, and florals play well together so you won't be repeating the same design, and your spaces will remain cohesive and look intentional, even if they were purchased months apart.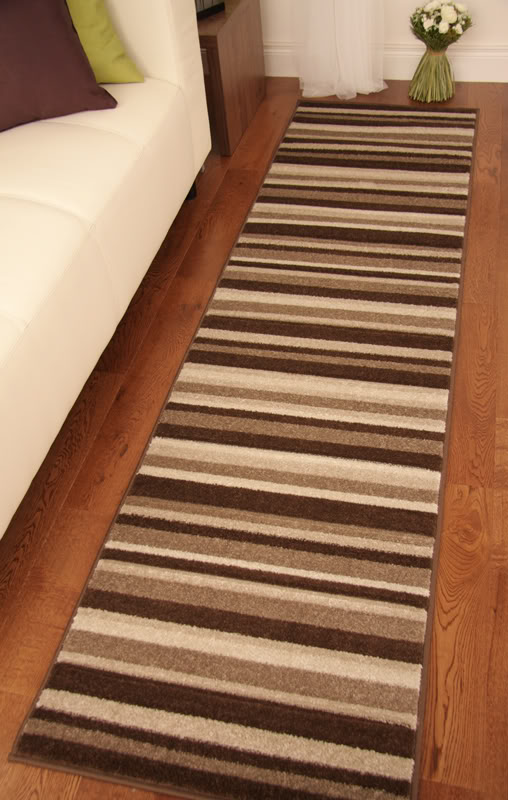 Versatility is a word that you associate with a runner, no? It has to be associated. The large rug that you have in your bedroom might be getting a bit worn or you might want to change your look up, but can't afford a whole new rug right now. Get creative and put runners down on either side of the bed to use as bedside rugs. They can look the same on either side for symmetry lovers with different patterns or they can have the same pattern yet different colors. They can even be different sizes for those of us who are a bit eclectic. You can really play with it and have fun.
If you have a narrow, galley kitchen, use a runner as a kitchen rug like a chevron kitchen runner.
When you look at runners, don't just see them as utility pieces, use them to carry your design throughout your house and create continuity.